Competitive Dancesport, part 2
11 Nov 2019 - Richard Horridge
2019-11-11 Mon 11:00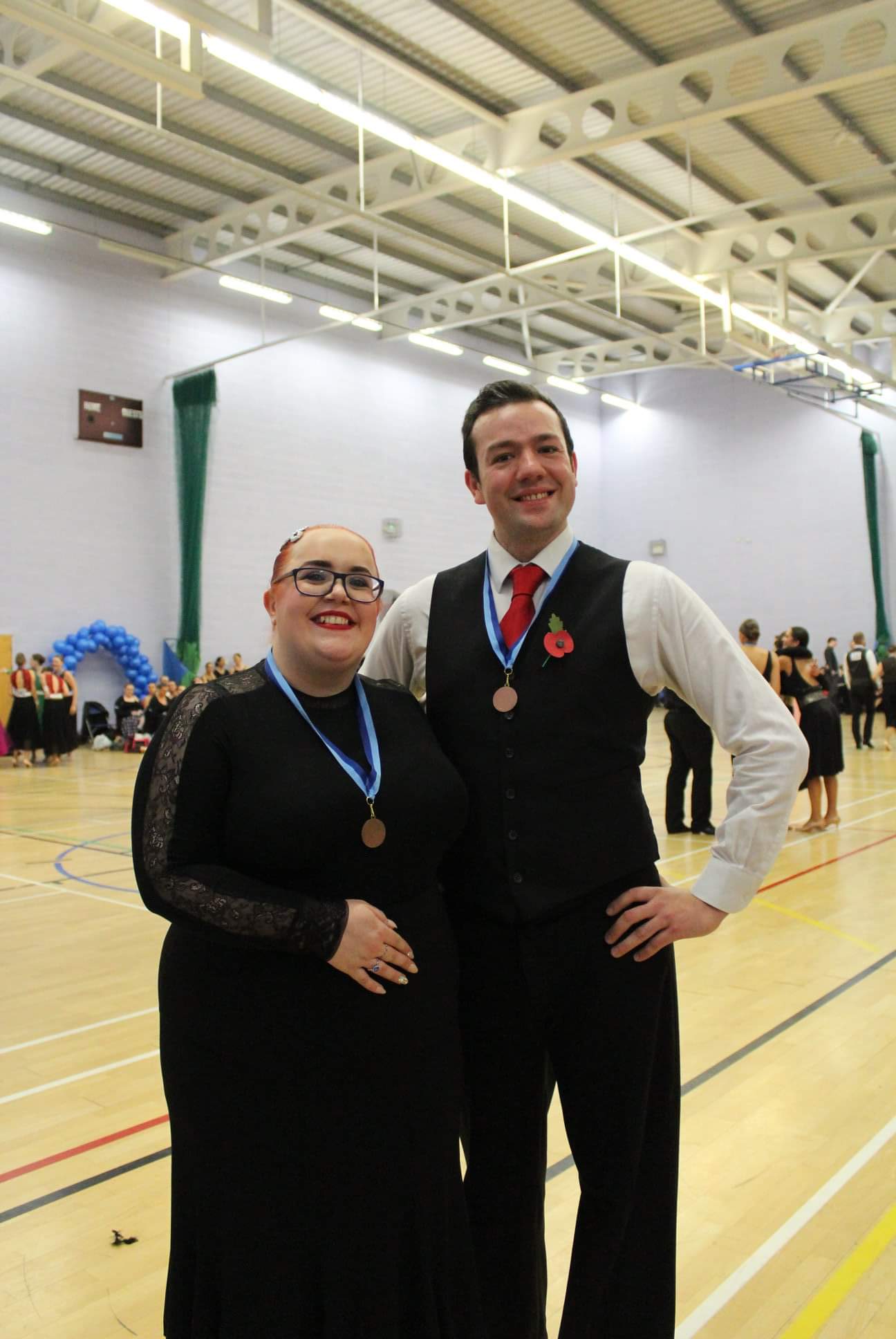 An unexpected award ceremony!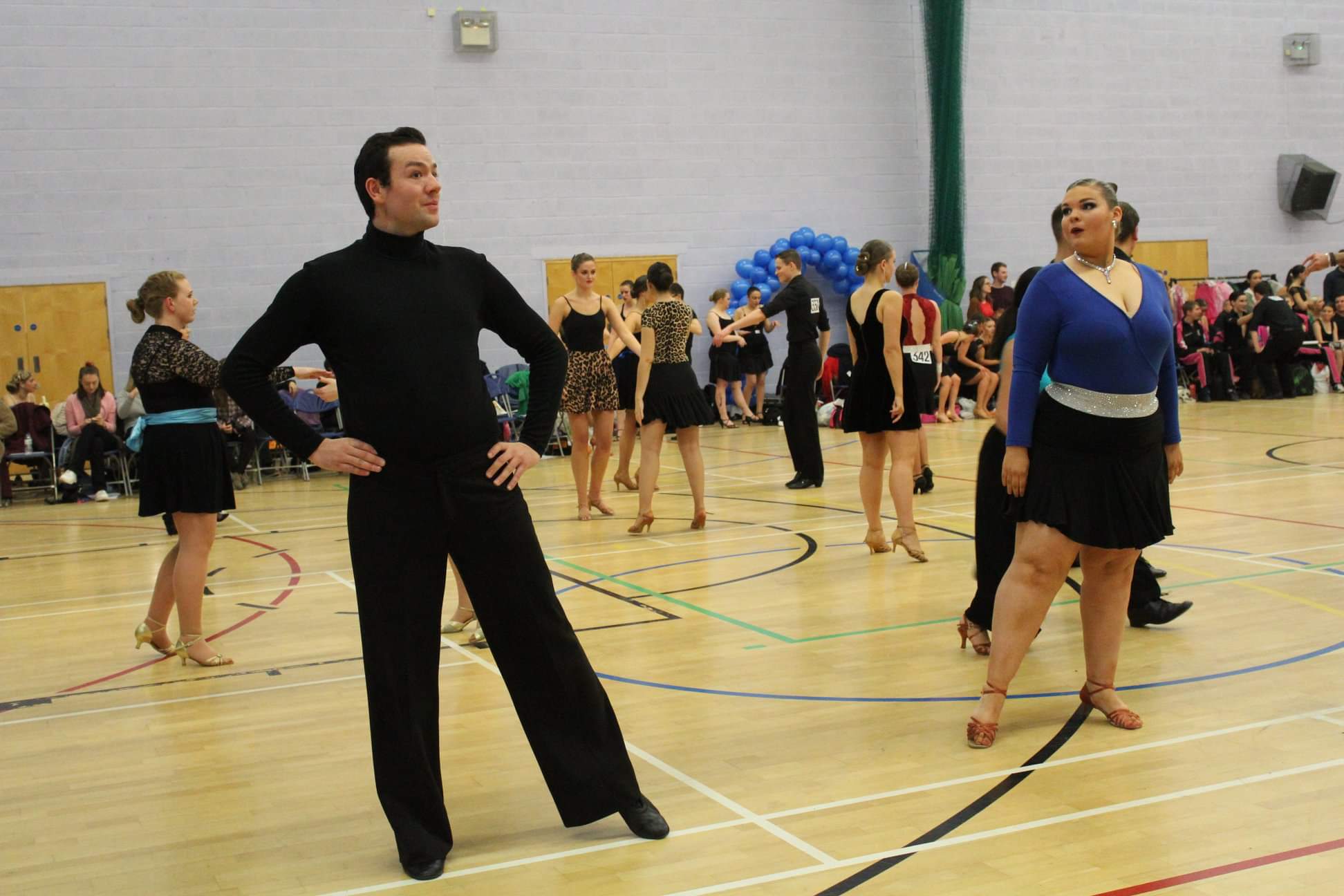 The beginning of the Cha-Cha
On Saturday I danced at my first competition since June, Leicester friendly, organised by the University of Leicester Dancesport club.
It was my first competition last year as a beginner after only five weeks of dancing Ballroom and Latin. At that competition we didn't make a single round in any category - after only a year of dancing the difference was remarkable.
I had two partners yesterday - one for Ballroom and one for Latin. My Ballroom partner, Rose, was quite a lot shorter than me and we hadn't practiced very much before the competition - though she had quite a few years of experience. My Latin partner, Helen, was my partner for several months earlier in the year up until Stars of the Future (see my earlier blog post).
Rose and I were not expecting to make many, if any, rounds yesterday, and it was to our surprise that we ended up reaching the final of Novice B! Unfortunately a mistake and an unfortunate loss of balance for Rose in the Quickstep meant that we placed sixth out of nine overall in the final. This didn't dampen the excitement that we felt for having made that final - Rose in particular, having never received a medal before!
In Latin we danced very well, making rounds in both Beginner / Novice Samba and Open Rumba. Unfortunately we didn't get very far in the Novice Cha / Jive. Looking at the scores, however, I noticed a strange common theme throughout the day - one of the judges did not give me a single mark throughout the day, whether I was dancing with Rose or Helen. With this in mind, to make a final was even more remarkable, relying only on the other two judges both marking us in a given round! In fact, in the final for Waltz we were marked 2nd (out of 9) by one judge but 8th by the one who seemed to have a particular dislike for me!
I am particularly pleased by the Waltz result - if our Quickstep in the final hadn't gone wrong we might have had better marks (we were marked 9th and 9th and 8th by the judges) and we might have come 3rd - if the particularly harsh judge had marked us more in line with the other two, we likely would have come 2nd or even 1st, though we would have made the Novice A category if this marking had been consistent.
Similarly, in Latin, I am extremely pleased with the Jive - both judges that were actually marking us gave us a mark in the Novice A qualifier and an extra mark in either Jive or Cha would have put us in Novice A.
I was slightly harsh on that one judge - he gave us a mark in the Cha in Novice B Round 1 (incidentally, despite our 2 marks in the qualifier for Jive, we got no marks for Jive in this round)! An extra mark would have meant making the semi final. These sorts of disappointments are all too common in this sport!
Overall, I cannot be disappointed with the day - I thought I danced really well throughout and being able to make a final with someone has never had that experience before is my proudest Ballroom accomplishment to date.