Competitive Dancesport, part 5
08 Dec 2019 - Richard Horridge
2019-12-08 Sun 13:52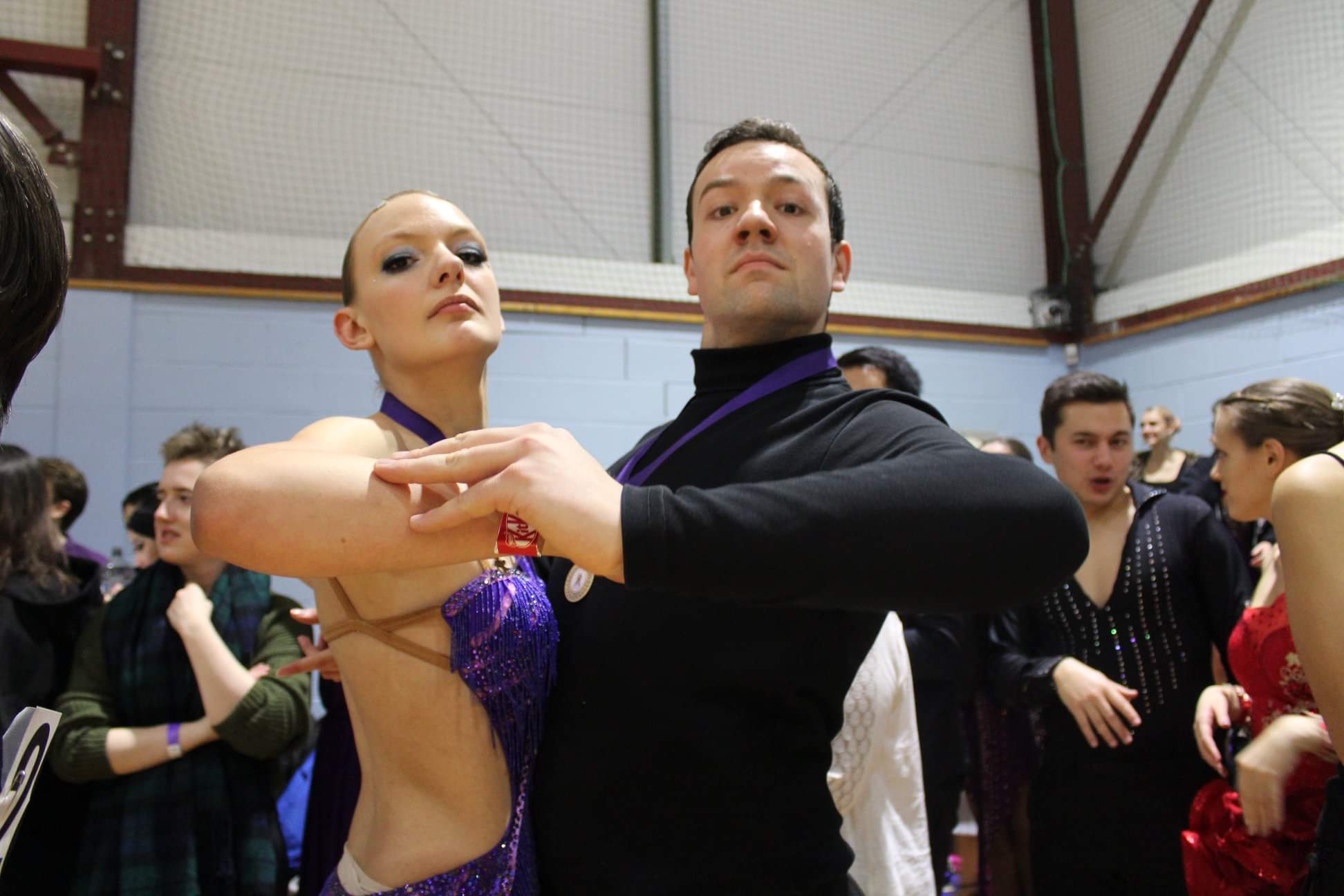 The two winners of the solo Paso Doble!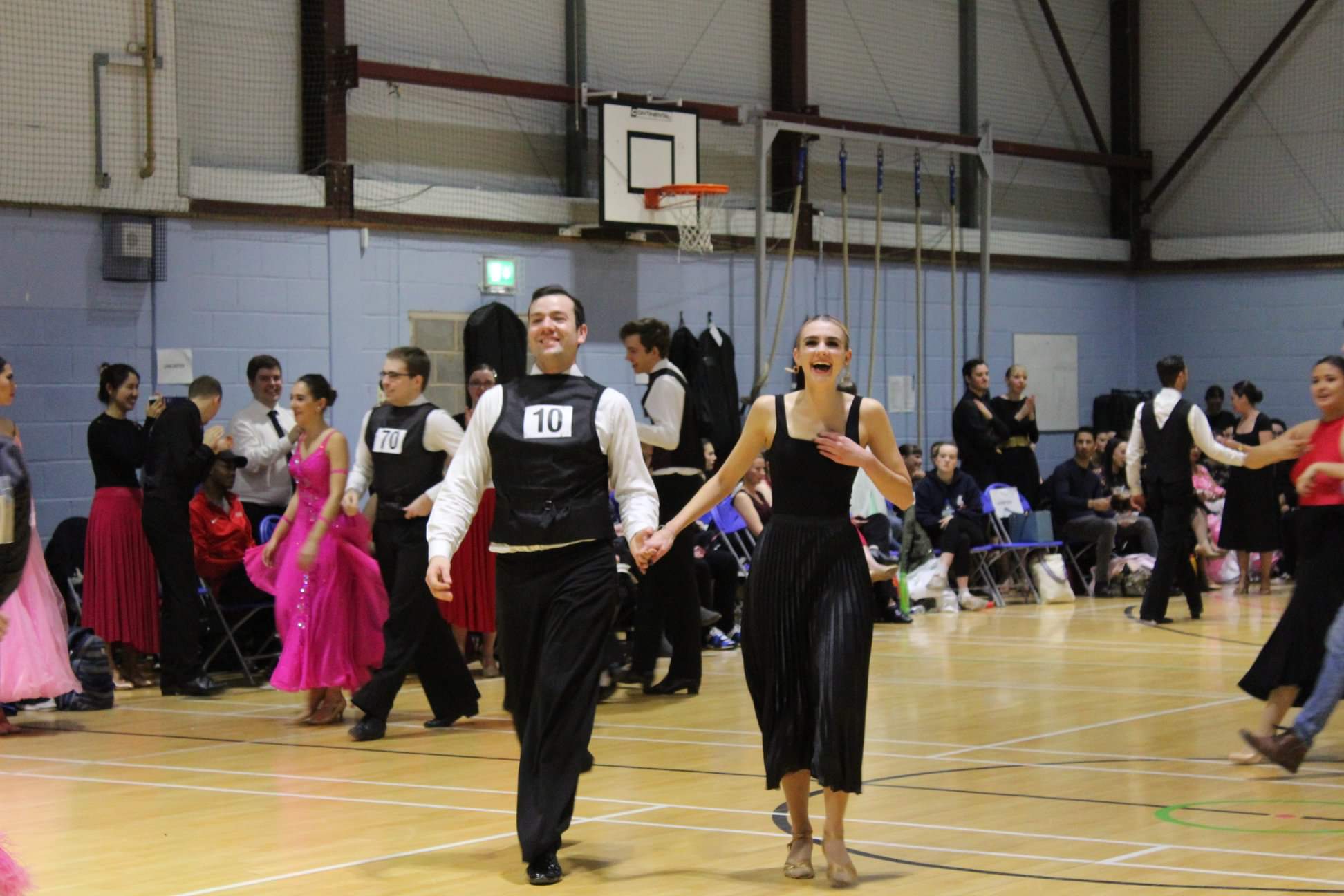 The ecstatic Back-to-Back Waltz finalists!
My last competition of 2019 almost didn't happen at all!
My partner was unable to make it to yesterday's competition and I searched over the last two weeks, to no avail, for a potential partner for the day. We shared a bus with Warwick Latin and Ballroom Dancesport to save on costs, and it turned out that they had a Novice follower whose partner had had to drop out the day before!
Upon arriving (late) at the competition we had less than half an hour to get dressed, get my number attached and test out potential routines for Ballroom. It was Valeria's first time dancing in Novice but she did extremely well and was able to pick up the routines quite quickly!
We were excited to have made it through the first round in Novice - a big accomplishment! Unfortunately this was as far as we got in Ballroom but I am extremely pleased with that result.
I met Valeria again later to put together routines for Latin. Despite us each having our own routines, I choreographed intentionally straightforward routines for our dances - I wanted to ensure that we both had a possibility of remembering what to do! Unfortunately we didn't make it through round 1 of Latin (we were 1 mark off) but given the tough competition this is still extremely impressive!
However, the main goal of yesterday was always the fun dances - the most important bit! Having known beforehand there was going to be a back-to-back Waltz, I was determined to have another go at this dance and Emilie was happy to have a go! Despite having danced for less than two months, she was an excellent follower and we made the semi final and then, incredibly, the final, beating lots of talented dancers to get there! My lowering action in the back-to-back Waltz may well be better than in my normal Waltz. We came fifth in the final - a fantastic result, unfortunately without an accompanying medal.
It was a surprise, for sure, but a welcome one that there was a second fun dance, the solo Paso Doble. Having competed it before and making the final at Nottingham Summer competition in June 2019, I have spent time perfecting the highlight (the only important part) and learning some more actual Paso steps! The floor was quite slippery so the slide was very effective and Svenja and I were pronounced joint first place!
Finally it was time for Team Match - the theme was video games and I dressed as Simon Belmont from Castlevania. Wearing a costume made almost entirely out of cardboard and with Belmont's trademark whip, the Vampire Killer, in hand, I had to do a Jive! Fortunately the costume stayed together and we were marked by all of the judges (!), for which I suspect they were awarding marks for my ability to dance while wearing such a cumbersome outfit!
Overall it was a great day and everyone that came from Birmingham had a lot to be proud of. Personally, it is a good sign that I have done consistently well in Novice Ballroom with different partners, and most importantly of all, I have finally finalled in both fun dances!