Competitive Dancesport, part 9
25 Feb 2020 - Richard Horridge
2020-02-25 Tue 10:00
Blackpool is all over and what a weekend it has been!
We arrived at the Winter Gardens on a wet and windy Saturday morning. It has been a long journey to get here - hours of practice, often alone or with different people, many trips to competitions and private lessons, great victories and bitter disappointments.
It was a great feeling to walk out onto the Empress Ballroom floor a year after failing to make the semi final in Beginners Waltz. I can remember standing at the side of the floor waiting for our number to be read out - alas, it was not to be, and that event proved the high point of IVDC 2019 for us. Now Novices, we had the privilege of dancing on the Empress floor for the entire day.
The first rounds of Waltz and Quickstep went by and we survived the brutal cuts, at one point going from 159 couples to 80! Having only learned our routines 8 days previously, we were still a little rusty and I managed to forget various bits. Nevertheless, we handled the mistakes well and carried on dancing. I was ecstatic to make the third round and in shock when we were recalled for the quarter final - unfortunately that was the furthest we got but we were extremely pleased with ourselves, especially as most of our competitors had known each other for more than four weeks!
Several other Birmingham couples did extremely well, with lots of semi finalists and finalists - extremely well deserved by all.
With the Ballroom section over, it was soon time for the Offbeat competition! We all ran through the routine once more before it was time to go onto the floor. For once, I managed to remember a routine and went through without any hitches - Clara and I managed to perform the best swing boat lift that we have ever done! The routine went down really well with the audience and it was a great experience to perform with the whole team again!
There were many extremely good performances from other teams - Leicester in particular put together a fantastic, unique show which entirely deserved to win (and, fortunately, did!).
Another quick costume change and it was time for the Latin section! My main priority throughout was on drawing attention and performing. This went well, though unfortunately we both forgot parts of the Jive and it was quite difficult to recover. While hoping we had made it through another brutal cut (161 to 79), we knew that it hadn't gone as well as it could have done. Disappointed but unsurprised to have not made a round, it was a shock that our best Novice couple, Jerry and Frankie, had also failed to make it! It was left to Svenja and Ben to carry the torch for Birmingham.
With time to kill, I wandered around the rest of the venue. It was good to see the Beginners compete upstairs in the Spanish Hall - all of them did extremely well and there were some really encouraging results. Eventually the Latin section was also over - another disappointing year but this always happens at competitions.
It was then time for the Salsa and Rock 'n' Roll competitions. Unfortunately for both of us, Katie had fainted earlier in the day during Ballroom and we had no choice but to pull out of Acrobatic Rock 'n' Roll - it would not have been safe doing lifts! It meant I got the chance to watch everything from upstairs, a good place to watch Acro! The other Birmingham Acro couples danced really well though it was gutting for Tom and Elli to not make it through a round - they definitely deserved it and I knew exactly how they must have felt. Marc and Clara made a semi final and Svenja and Ralph went all the way to the final! They have both worked extremely hard and it was very well deserved, and good to see Birmingham being competitive with Cambridge!
It was soon time for the Team Match - a busy affair, with so many universities attending. Myself and Gabi were dancing the Quickstep - always a scary affair, as team captains tend to put their best Ballroom couples on who usually have charges, and there is a high risk of being knocked around! Nevertheless, we were excited to have a chance to dance again.
We didn't make Division 1 - not much of a surprise, given most of our team were Novices! We carried on dancing with things steadily getting more and more interesting - Ben became steadily more and more drunk, Svenja kept going missing, Matt incorporated questionable arm choreography into his Cha-Cha. I'm pleased to say that we did some of our best dancing during Team Match and were able to help the team, though everyone danced their absolute best and were all incredible.
After they announced the couples for the playoff, we assumed that we hadn't made the final and it was with shock that we realised that, in fact, we had and Ben and Svenja needed to be on the floor for their Waltz! It was so exciting to have made a Blackpool final and in the end we came fourth out of 58 teams - an incredible accomplishment! If I'd been told at the beginning of the year that the eight of us would have made finals in Team Match I would not have believed it!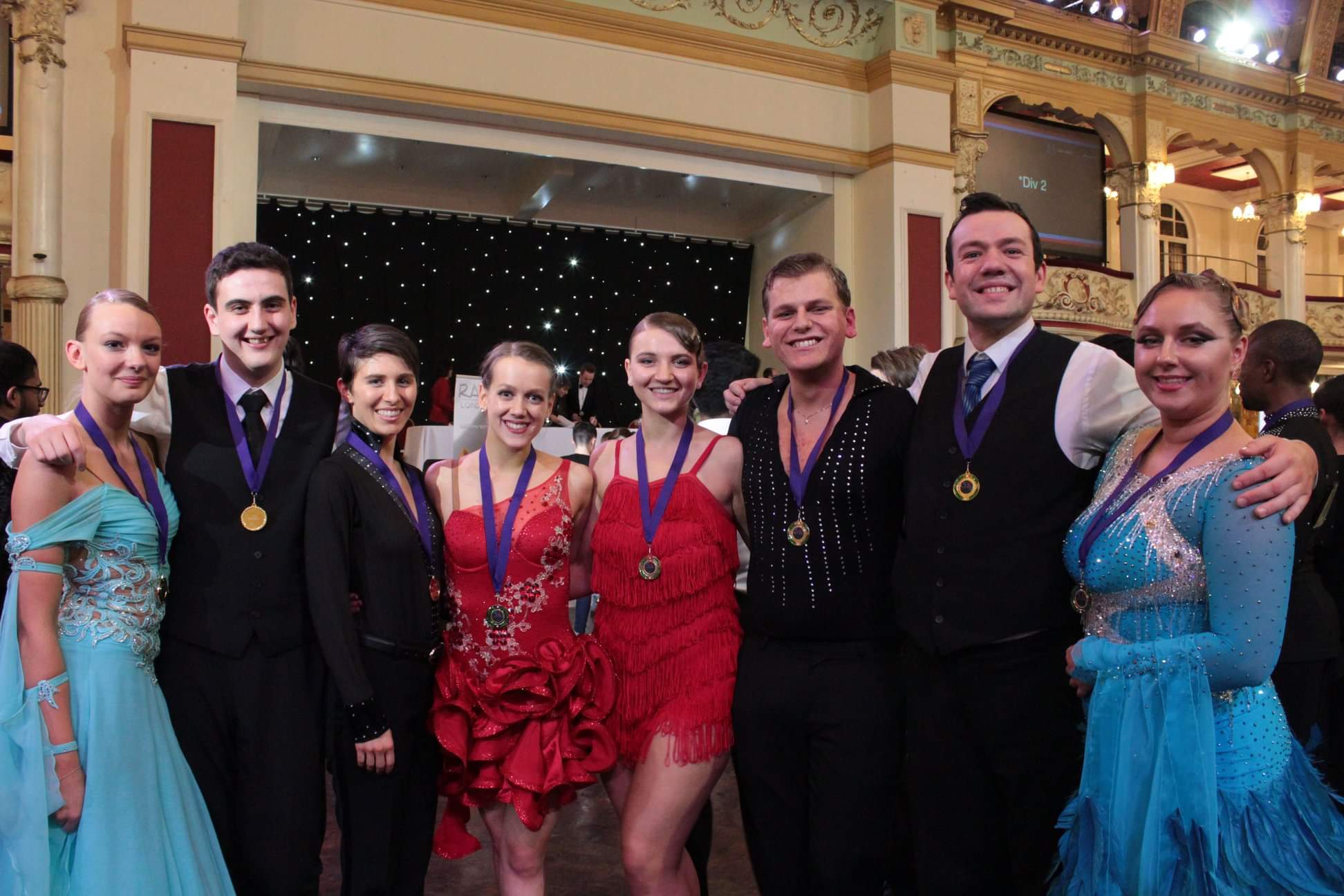 The Best Team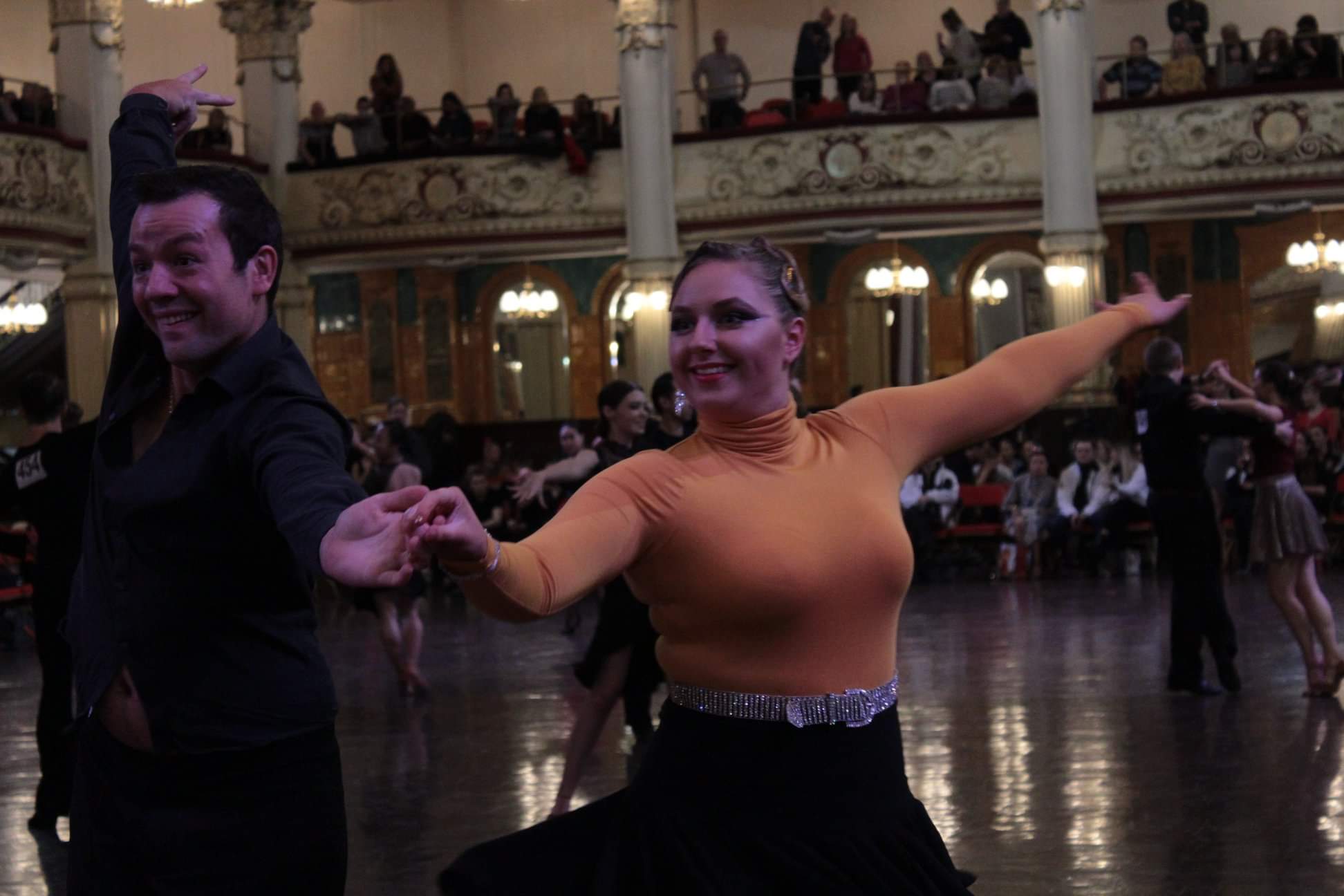 Our well-received Cha routine!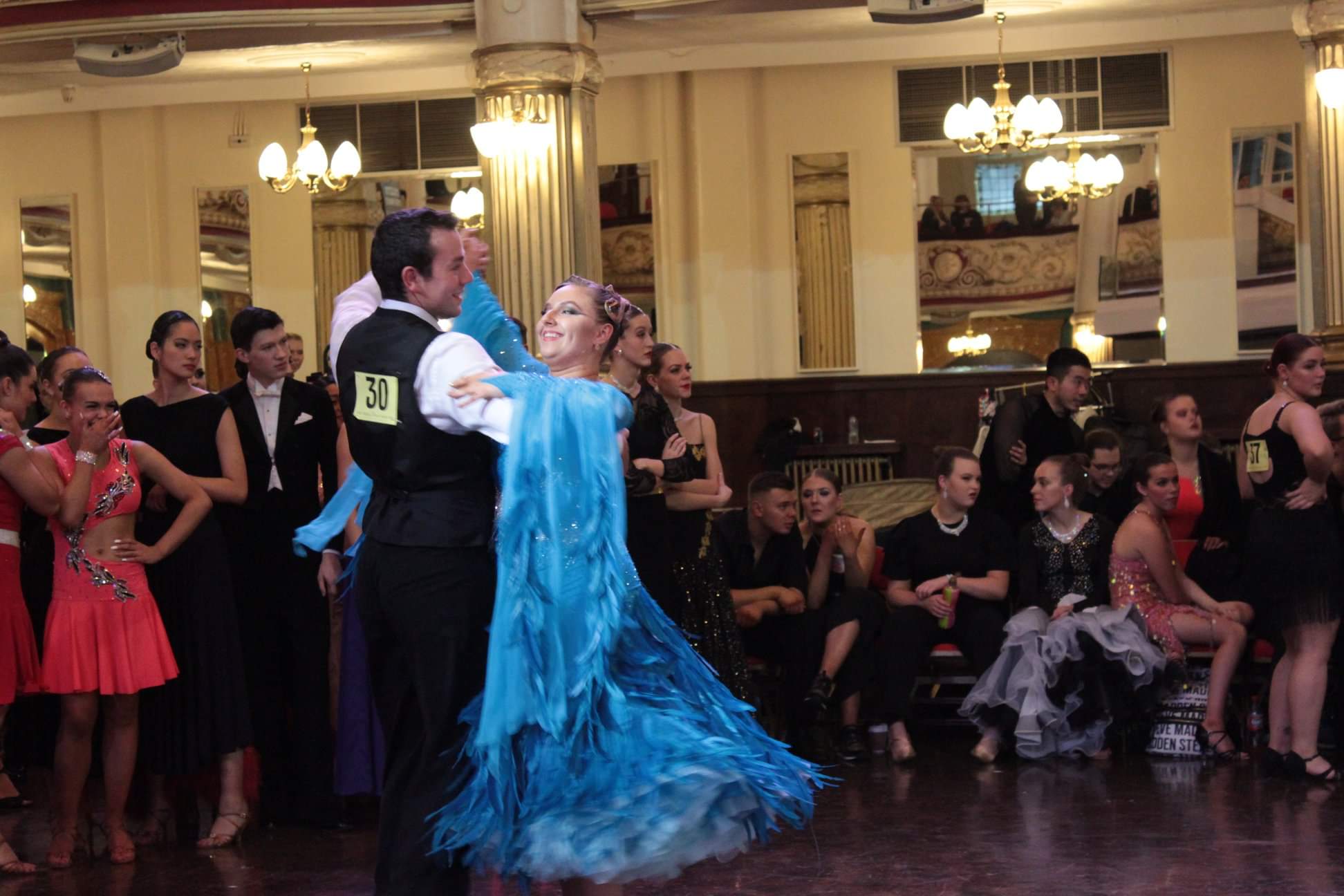 Dancing the Quickstep in Team Match
With the day (finally) over, it was lovely to dance the last Waltz with Andrea - we both commented on how much each of us had improved since last year!
It was then time to hit the town and after a quick stop at the hotel we headed to Revolution! Lots of drinking and dancing took place and it was soon 4am and the club was closing. After a quick stop at Maccie D's we headed back to the hotel, though it was to my chagrin that Marc was unreachable by phone - he had the only set of keys to the hotel and the room! After a wander down to the beach to see if he was there, I spent an hour on a bench in the other hotel before being able to rouse the poor hotel owner at 5:30am to let me in.
Not too many hours later, we were up again and off to the Blackpool Tower for a tea dance! On the way we stopped off in the pub for a quick liquid breakfast (a Bloody Mary). It was great to dance in the Tower again and I was prepared this year with several changes of shirt! I'm not the best social dancer but it was really good fun. In particular, it was a pleasure to dance a couple of dances with Harriet and to lead Will through a Quickstep, a year after he lead me through my first ever Foxtrot!
All too soon, it was time to go and we headed for Mr Basrai's Buffet. With my sleep deprivation and hangover I was not in a particularly fit state and had no intention of attempting last year's challenge again! Food was consumed and all too soon we headed off to walk back to the hotel, while enjoying a pleasant day along the promenade.
All in all, it was a fantastic weekend and I am overjoyed at how well we did. I am hugely grateful to Gabi for dancing with me and we did extremely well with the amount of practice time we had. I am really happy for everyone at Birmingham for how well they have done - everyone has something to be proud of from the weekend and above all we went to have a good time as a team and we definitely managed to do so! Finally, a huge shout out to the best team - Ben, Svenja, Matt, Harriet, Gabi, Hannah and Emily - for their amazing performances in Team Match - I am honoured to have been among such incredibly talented people!