Competitive Dancesport, part 10
12 Mar 2020 - Richard Horridge
2020-03-12 Thu 10:30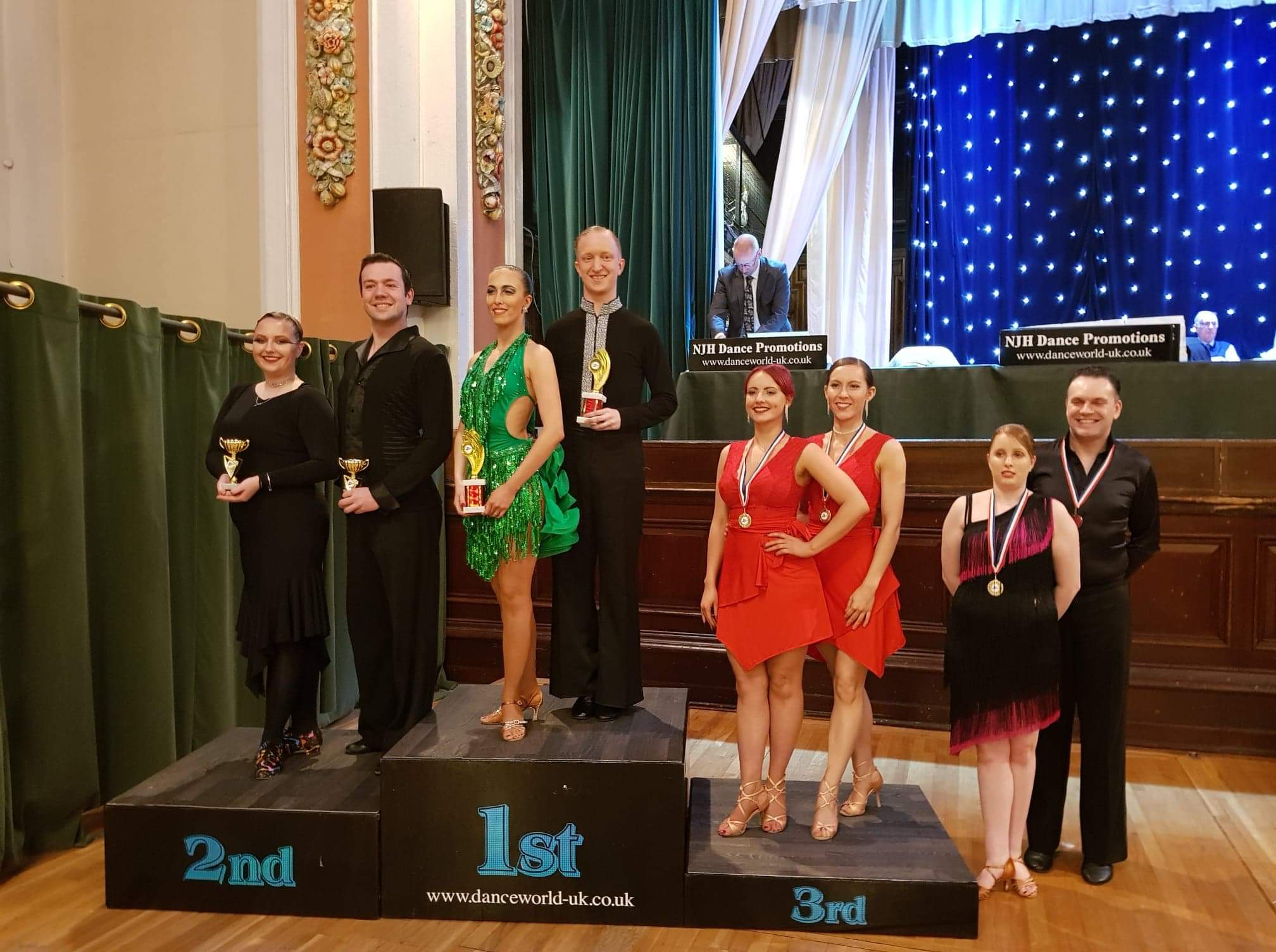 Novice Latin Finalists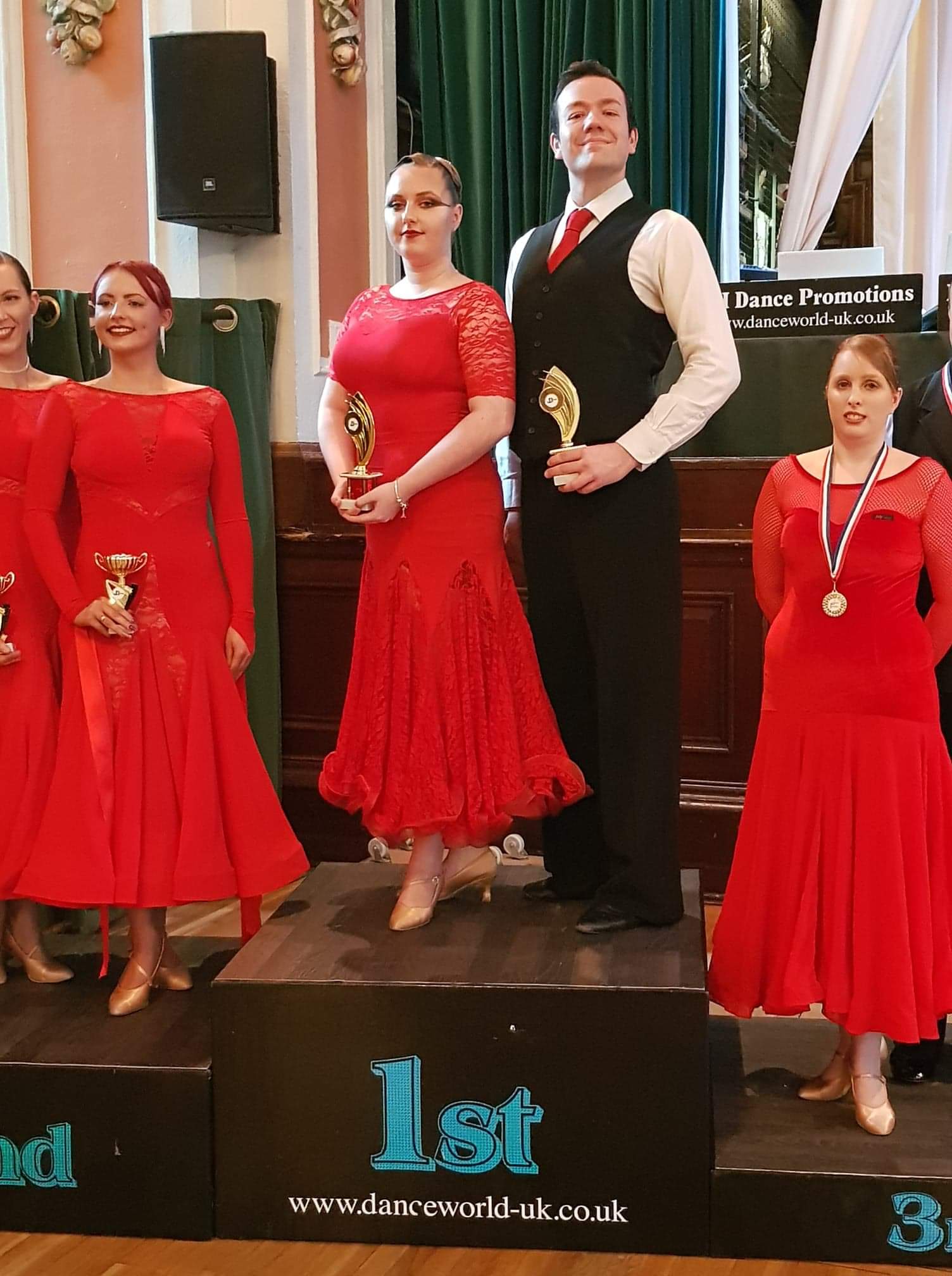 The monochromatic Novice Ballroom finalists!
This week has been a busy one, and it looks set to get even busier.
The amount of things I need to do seems to keep increasing and my involvement in the Crewe project continues to grow - nevertheless, my priorities are clearly in the right place, with 3 dance competitions in 8 days!
On Sunday we travelled to Stockport (my first visit) to the fantastic Town Hall for the Pennine Trophy Day. This was my second competition with Gabi and our first on the Open Circuit. Upon arrival it was a surprise to see Jackie, my coach - I hadn't let her know that I would be there and she was judging!
We were there with Vincent and Nathalie, who compete regularly on the Open Circuit and who were extremely supportive throughout the day. It was great to see the amateur Latin 5 dance final upon arrival - the quality of dancing at Amateur level is superb and an inspiration to watch! The Juvenile and Junior sections were also really impressive.
Once the kids had all gone home, it was time to begin the Adult section with the Pennine Open Foxtrot. We hadn't practiced our Foxtrot much and it was a bit daunting to have to dance at the same time as the amateurs! It went well enough, though we were blocked quite a bit by one couple who seemed to keep getting in our way. We got 0 marks, though given the calibre of the competition, this was hardly a surprise.
It was soon time for Beginner Ballroom and it was a surprise to find three other competitors! Our Waltz was going well until I forgot to do a Weave and ended up making up quite a lot of steps (much to Gabi's chagrin). Quickstep went a little better, with only a few mistakes, but we were both quite frustrated.
Novice had three couples, including us, and it went a lot better! There were no major mistakes in the Waltz and our Foxtrot was quite solid. There is still a lot of work to be done for ballrooom, particularly for my right shoulder, but it bodes well for the future!
It was soon time for Vincent and Nathalie to take to the floor in Amateur! Given the high quality of competition - Andrei and Mia had demonstrated at NUDC only a month ago, and they didn't even win! - they put on a strong performance - I know very well how difficult it can be to move when on the floor with such strong dancers!
Ballroom presentations soon came around and we were not expecting much from Beginner, so it was to our surprise when we came first in Beginner ballroom and first in Novice ballroom! There was a same sex couple who were very strong competitors (they actually danced Intermediate as well!) and given our mistakes in the Waltz, this came as a huge surprise!
It was time to get ready for Latin and I finally had a chance to wear my Latin shirt! Unstoned shirts and dresses are allowed at Beginner level on the Open Circuit, unlike the University Circuit. We first competed in the Pennine Open Basic Rumba, with a routine I had learned only three days prior - I thought it went well though our timing wasn't always perfect. One more mark would have got us into the semi final!
Not too long after was Beginner Latin and Novice Latin - both were Cha and Jive. We really brought the performance this time around, and unlike IVDC, I didn't forget the Jive halfway through! We competed against Vincent and Nathalie in the Novice Latin, which wasn't a competition we expected to win. They also danced Intermediate, where they did an excellent Samba and Rumba.
The day was finally over and it was time for the results! We placed first in Beginner Latin and second to Vincent and Nathalie in Novice Latin - an excellent result and as much as we could have hoped for. It was a surprise to find that we had taken a couple of marks off them in the final!
I'd like to thank Dan and Margaret for their support throughout the day, including taking several photographs and videos for us. Overall it was an excellent afternoon on the Open Circuit and I will be back again, with Ayesha, this coming Sunday at the Trent Trophy Day!