Competitive Dancesport, part 11
17 Mar 2020 - Richard Horridge
2020-03-17 Tue 09:05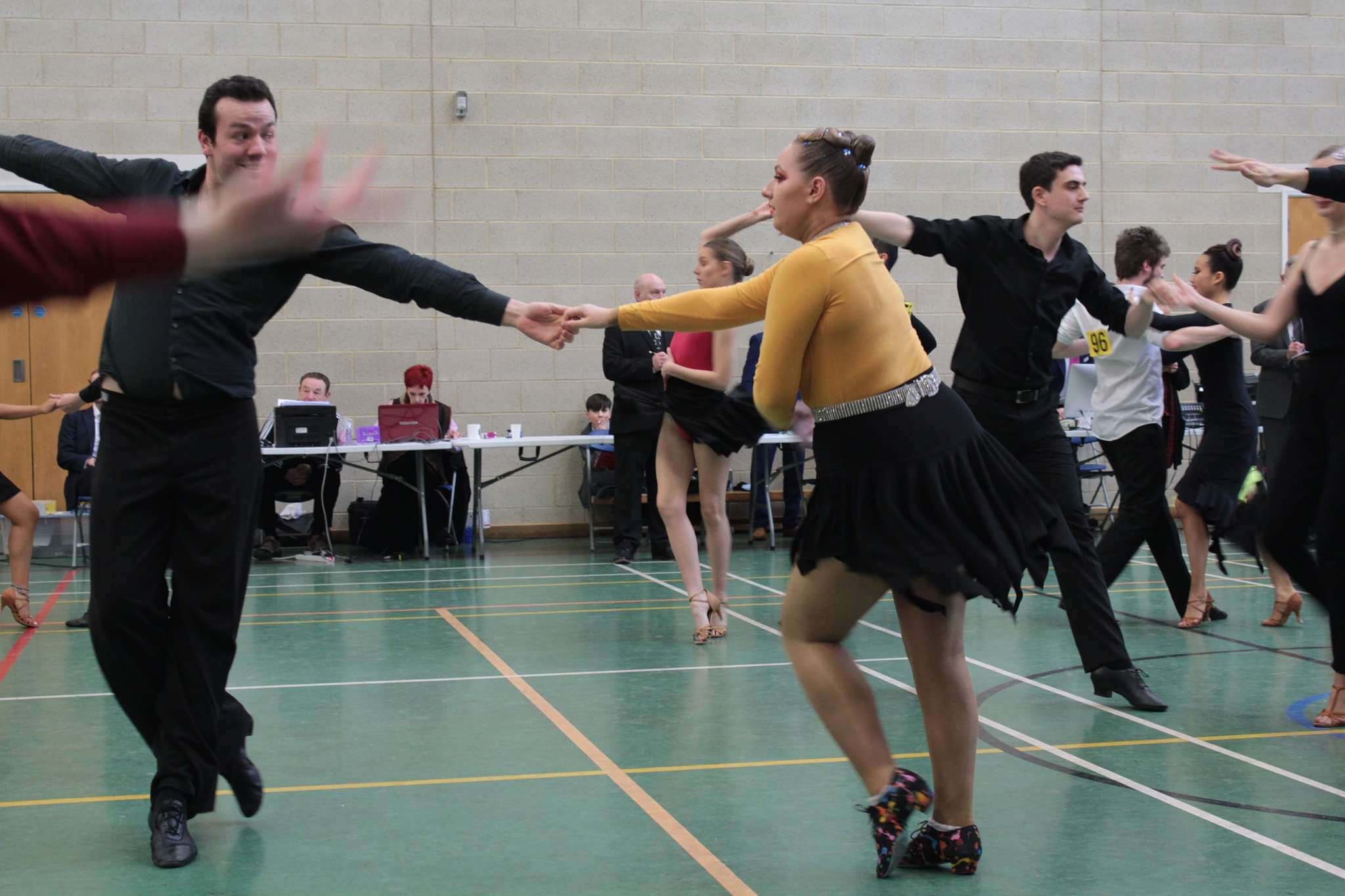 Enjoying Latin for a change!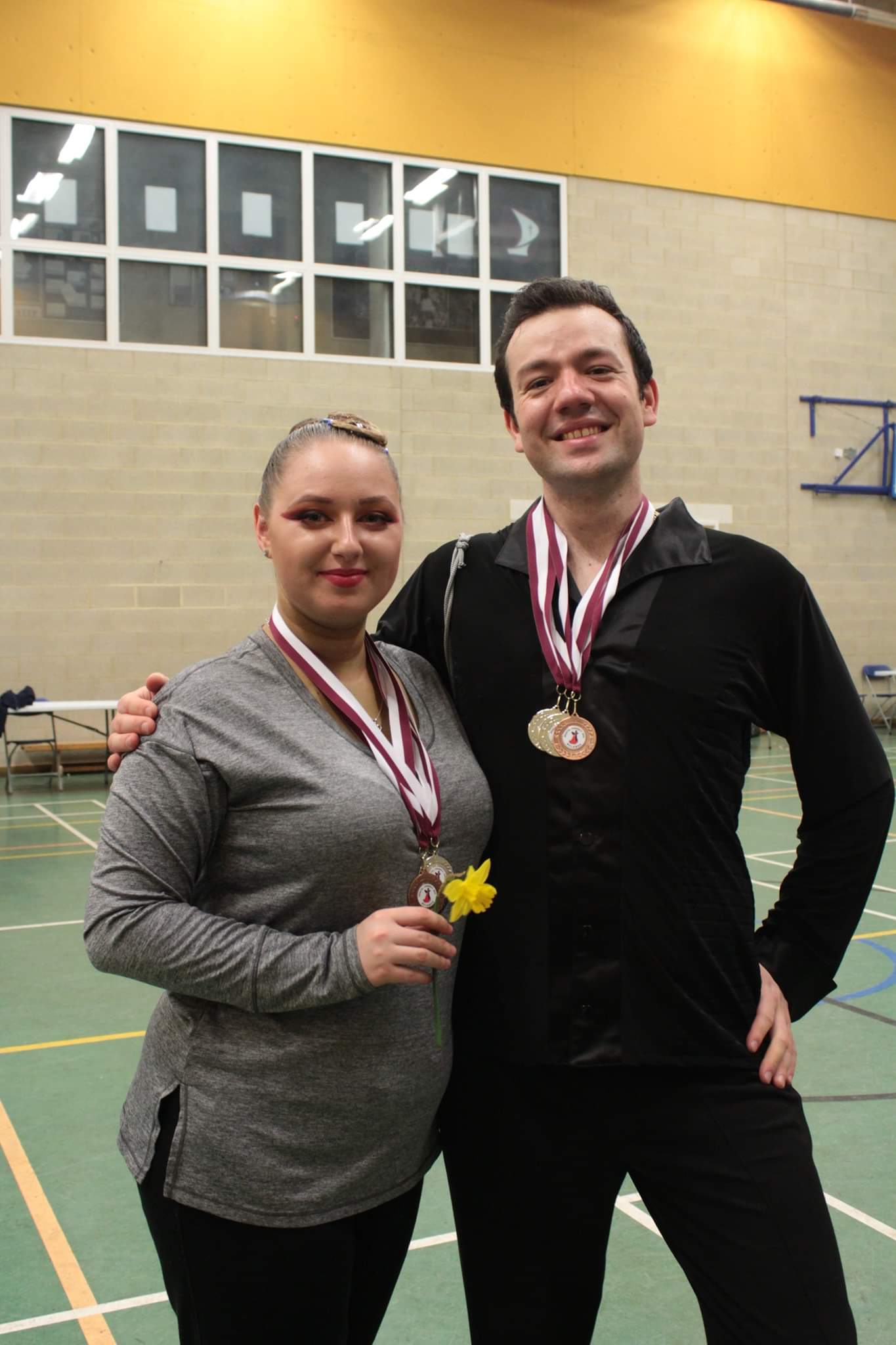 Four-time finalists at Bristol Friendly!
This weekend has been a long but rewarding weekend involving little but dancing.
We began on Thursday evening when I taught Gabi my Tango and she taught me her Samba. I had never done Corte Jaca's or Samba Rolls before but I managed to pick them up - as we needed both a Novice Tango and a Novice Samba routine for Bristol Friendly on Saturday we had to get those routines together!
The following day myself and Ayesha took our Silver Medal Tests in Ballroom and Latin. I did the Bronze medals last year, and the Silver medals involve three dances - Waltz, Tango and Quickstep for Ballroom and Cha, Samba and Jive for Latin. Both sections went well and we are awaiting the results!
Saturday was a trip to the Bristol Friendly, organised by the Bristol University Ballroom and Latin American Dance Society. As we normally go to Northern university competitions, it was nice to travel south for a change and see different universities to usual!
We worked a bit on the Viennese Waltz as I am not very good at it and it was a surprise to make the quarter final! It felt a lot stronger than it has done previously. Similarly, we were pleased to make the quarter final in Open Foxtrot - we couldn't have expected to make it much further against intermediate and advanced couples.
The real surprises were from the Novice-level competitions. I tried my best to improve my Tango based on Gabi's advice and felt that we definitely attacked it with passion. We had some difficulty earlier on with the Double Reverse Spins in the Waltz, due to the sticky floor, but this improved later in the rounds.
It was with great surprise that we made the final in Beginner/Novice Tango and Novice Waltz/Quickstep. We danced as well as we could in the final rounds and were greatly supported by the Birmingham and Cardiff teams in particular!
We ended up coming fourth in Novice WQ and second (!) in Beg/Nov T! While we would have liked to have done slightly better in Novice Ballroom, I am extremely pleased with the Tango as it has always been my weakest dance.
Others in the team had phenomenal results in Ballroom and it was great to be able to support them.
We began the Latin section with the Open Rumba, hoping to do slightly better than last week. Everything went fairly smoothly and we were pleased to make the quarter final, same as for all of the other Open competitions.
I was having some issues with the Samba throughout the rounds but we were surprised to keep making rounds. Somehow, we made the final in both Novice Cha/Jive and Beg/Nov Samba! It was really noticeable how much my performance has improved in Latin and I hope that my technique has too - the videos Ralph graciously took will prove it.
We came third in Novice CJ - for the first time that we had made a round in Latin, this was a good result! Unbelievably, we were placed second in Beg/Nov S - considering I learnt the entire routine only two days previously, with several steps I didn't know, this was amazing and by far the best result we had!
For the first time, we were in the A team for Team Match and we danced a Cha-Cha. Unfortunately, the team match was run differently to the way I've become used to - instead of each couple in a team having the same numbers, all couples have different numbers and are placed individually. We sadly didn't make the final (letting the team down!) but in the end we didn't drag the team down too much as we placed third overall!
Overall it was a fantastic day and we came back with several medals. Everyone on the team should be really proud - Xavia made rounds in Intermediate for the first time, Andrew made semi finals in his first ever competition, Wing made finals in Novice after dancing as a Beginner for the year and Kerris did more dancing than anyone else, making finals in Open competitions, same sex and Advanced!
I am writing this post from Burton-upon-Trent Town Hall which is currently hosting the Trent Trophy Day. I had hoped to compete with Ayesha, but unfortunately she had to drop out and I am here supporting Vincent and Nathalie. So far we have experienced a power cut which threatened to end the whole competition! It has been a fun experience to attend a competition without competing and it is good to support Kevin, our society's Ballroom coach, as it iws his competition!
We have no more competitions planned for a little while and it is possible that some may not go ahead due to the current situation with COVID-19. We wil take this opportunity to practice and consolidate our dancing as much as possible - we now have 9 dances that we are reasonably solid at!
Many thanks to Gabi for a fantastic five weeks of dancing!