Trip to Canadian Rockies
01 Jun 2020 - Richard Horridge
2020-06-01 Mon 10:19
I'd like to extend an open invitation - I'm looking for folks to join me on a trip to the Canadian Rockies, most probably in Summer / Autumn 2021.
The trip will probably be around three weeks in total, and will involve the usual shenanigans e.g. mountain biking, white water rafting, swimming etc. However, I have a couple of specific goals in mind - summiting Pyramid Mountain (2766m) in Jasper National Park and Mount Rundle (2948m) in Banff National Park.
Pyramid Mountain (2766m) in Jasper National Park (© KimonBerlin CC-BY-SA 2.0)
Mount Rundle (2948m) in Banff National Park (© Qyd CC-BY 2.5)
Unfortunately I have no pictures from my previous trip as I managed to lose my SD card with 1500 photos on (=[).
Many of you may immediately be daunted by the height of these mountains! While a reasonable amount of fitness will be needed to tackle these challenges, this is not insurmountable and there will be plenty of opportunities to train before then - I will also be in need of it after this quarantine! The peaks in question do not require any technical mountaineering skills and, while they are at altitude, we will have plenty of time to acclimatise when we arrive.
Anyone who has had a taste of mountaineering with summits like Ben Nevis, Snowdon etc. in the UK, or any hiking in the Alps or Pyrenees, may be wondering what the next step could be. These summits are both accessible in terms of ability and iconic in terms of their profile - Mount Rundle in particular is easily recognised and is a symbol of Banff in particular, and the Canadian Rockies in general. Even for those without much mountaineering experirence - a trip to this area is an unforgettable experience and going off the beaten track in this way will be the adventure of a lifetime.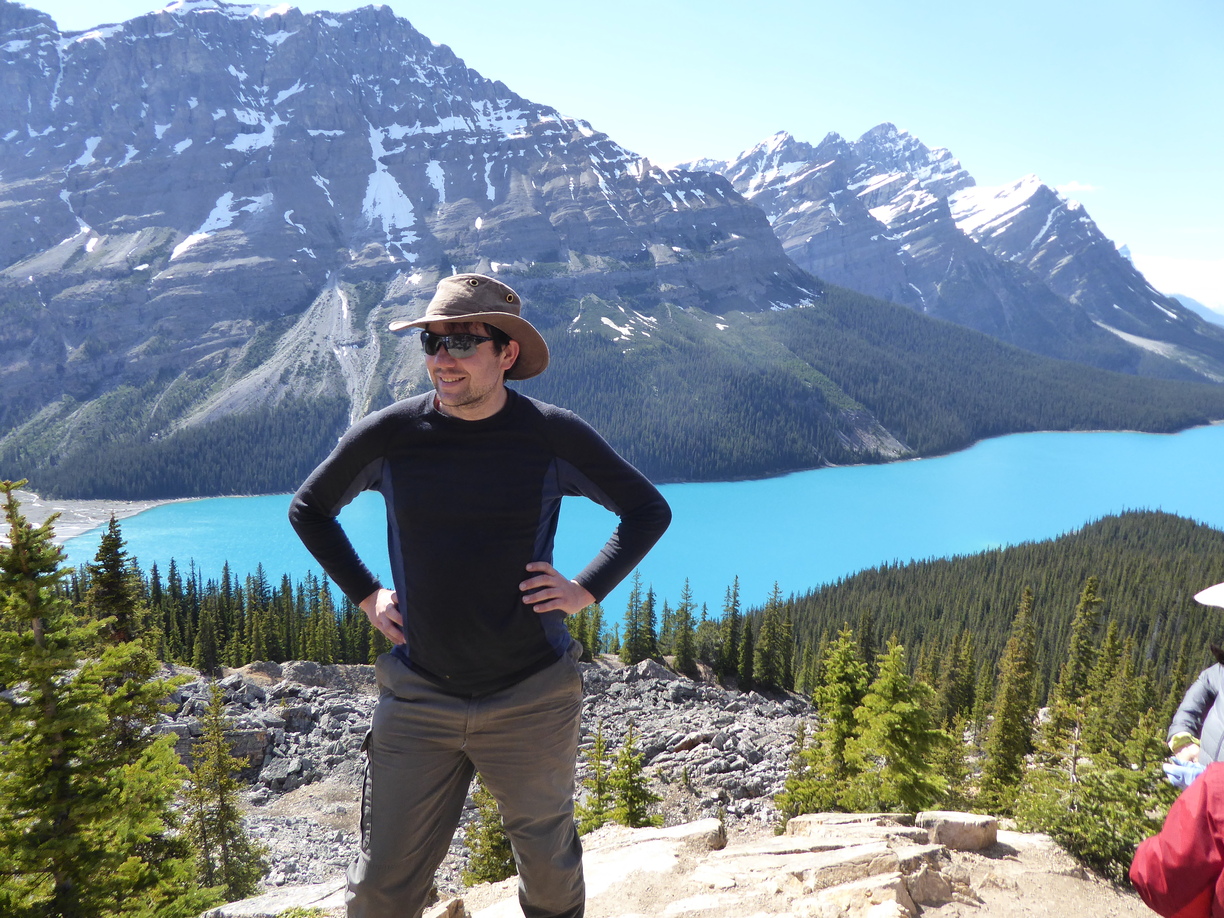 Me above Peyto Lake, just off the Icefields Parkway (2018)
What else does western Canada have to offer, you may ask? While the obvious route into the Rockies is via Calgary (or perhaps Edmonton, home to the largest shopping mall in North America), a highlight has to be Vancouver, one of the most incredible cities I've ever visited with its array of restaurants, museums and attractions. A trip out to Vancouver Island, as I did, offers the chance of seeing Orcas. The whole area lends itself really well to a road trip - there is a huge amount to see
The plan would be to pack relatively light (mostly hiking equipment) - tents, sleeping bags, hiking boots, hats, sunscreen etc. We would hire a car upon arrival and drive into the mountains, possibly with an overnight in a hotel (after a 12-13 hour flight, always needed!). Where we go first may depend on where we are approaching from - Jasper and Banff are a day's drive away on the Icefields Parkway, but there is lots to see en route. There are popular campgrounds in both Jasper and Banff. It may be worth exploring rental of cooking equipment etc, as transporting it on the plane will be challenging.
In terms of difficulty, Pyramid Mountain is easier than Mount Rundle though we would plan to spend a few days in each area acclimatising. While the altitudes aren't quite alpine, the difference between a 1000m+ mountain and a 2000m+ mountain should not be underestimated and no amount of fitness training is sufficient on its own to prepare for altitude. Pyramid Mountain is doable in one day and involves only simple scrambling. Mount Rundle is a more intimidating affair - the best account I was able to find quickly estimates it as a 17 hour affair in one go, and we should assume that we will need at least one bivouac.
If all of this has 'peaked' your interest, great! Regardless of your level of experience there is much that we can do to prepare in the UK before our trip. The most useful preparation will be doing unroped scrambling in the Lake District / Scotland to gain confidence and fitness. Any rock climbing experience, indoor or outdoor, would also be very useful. While it is possible to do both routes without a rope, we may well decide to rope up for sections and it offers the option of abseiling, so some grade III/IV roped scrambling would also be effective training.
Above all it would be a really fun trip to a great location and the opportunity to do something unforgettable on the way! Let me know if you are interested.