A Summer in Review
27 Sep 2019 - Richard Horridge
2019-09-27 Fri 14:09
This past summer I ended up doing quite a lot of trips while finishing my MSc project, starting with a trip to Brentwood, Essex for Stars of the Future, one of the biggest open circuit dancesport competitions of the year.
When I started competing with Helen, I had only danced since October 2018 and had only one major competition behind me - IVDC 2019 in Blackpool, where Andrea and I reached the quarter finals in the Waltz. Dancing on the open circuit was a big step up.
Despite having struggled in Latin since the beginning, at Stars of the Future we placed fifth in beginner's Latin, a result which I am extremely proud of. Above all, I'm thankful to Helen for the opportunity to learn and experience a completely different level of dancing and hope to continue that throughout this academic year.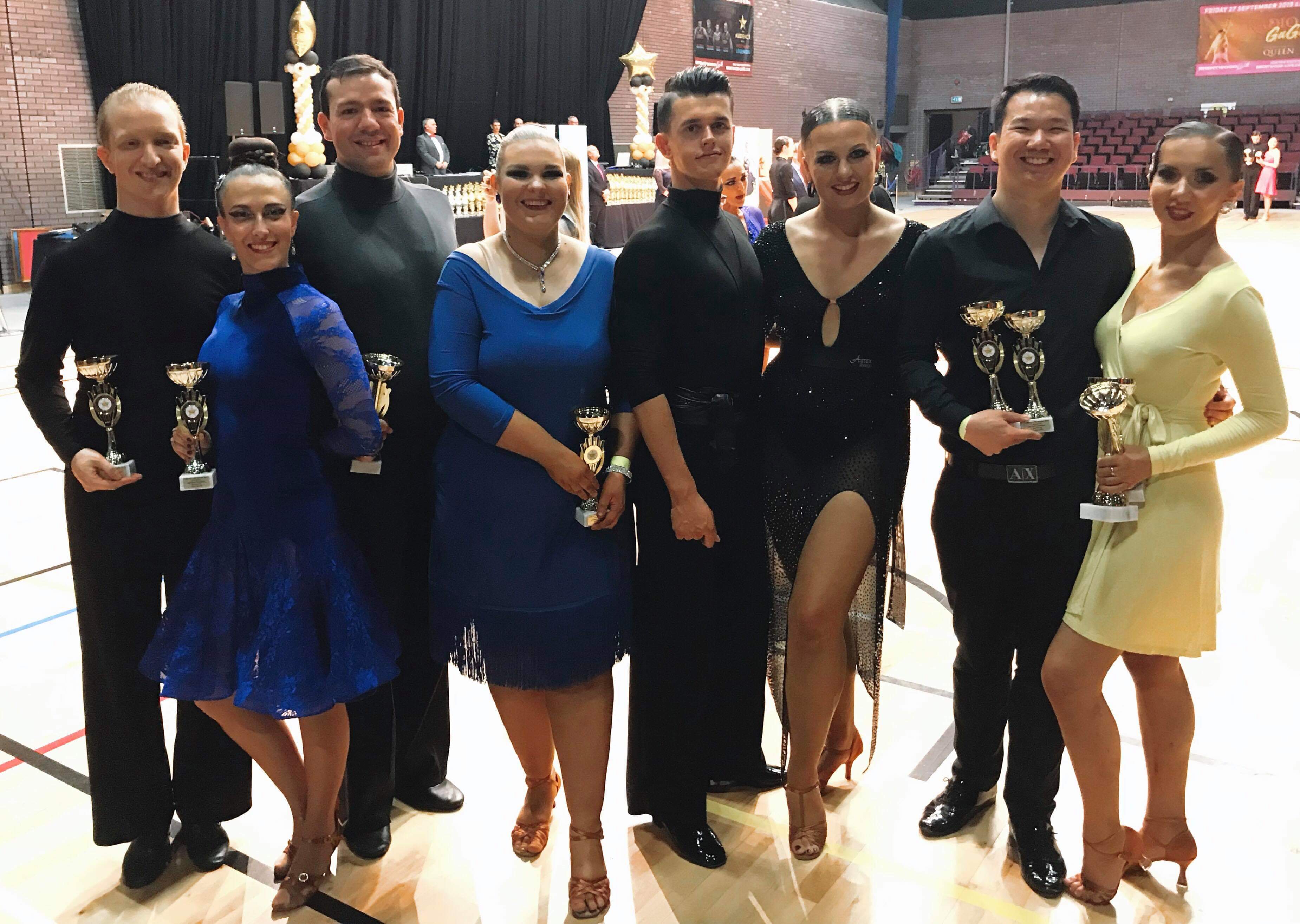 The Team at Stars 2019
Immediately after Stars, I drove 450 miles from Brentwood to Cornwall, via Birmingham, for a week of seaside climbing with my mountaineering club, UBMC. There were two main highlights of the week - climbing the Land's End Long Climb and getting free fish and chips! (we must have looked really disappointed when we found out the shop was shut).
Land's End (photo © Jakemete CC-BY-3.0)
Only a couple of weeks after this trip I was off to Athens, Greece to join a flotilla of yachts for a week of sailing! My only previous cruising experience had been on a motor cruiser some years previously, and I enjoyed being part of the crew on a sailing yacht much more - more to come on this later!
A yacht race in Greece (involving unusally high winds)
When I returned from Greece, I had to make preparations very quickly as I departed for Switzerland in mid-July with two other UBMC members for a week in the Alps. After a 750 mile drive (!) Lottie, Jake and I arrived in Arolla at the highest campsite in Europe (1950m) and met up with our guide, Andy Teasdale, for a three day course in alpine mountaineering.
Having climbed mountains in the UK, going to the Alps was a big step up in difficulty but, despite struggling with the altitude in particular, I completed the course and intend to go back at the next opportunity and take on more challenges!
Summit of La Luette, with the Matterhorn in the distance
Following the return from Switzerland, I needed to finish my MSc project. I took delivery of the equipment I needed the day after return and had roughly six weeks to collect my data and write a journal article. I finished the work in good time and was happy with the result, in spite of the large amounts of time I spent away from Birmingham!
Not long after finishing the MSc, I had booked to go to Largs, Scotland to take the Day Skipper course. Having experienced yachting in Greece I was keen to learn more and was recommended ScotSail as a training centre.
I realised, perhaps slightly too late, that I needed to know quite a lot of theory before taking the practical course! This included identification of buoys and lights, navigation using maritime charts and GPS and the theory behind yacht safety and maintenance. Despite needing to cover the necessary content (in theory 40 hours worth) in less than 3 days I didn't struggle with the course and received a lot of good feedback from Tony Blenkinsop, our instructor.
At the helm of a Hanse 411 sailing yacht
I have now returned to Birmingham and there are no more trips planned at the moment. I am due to start my Ph.D on Monday 30th and plan to stay at home for a little while for now!
Overall, I think I made a good use of the time and opportunities I had over the summer. I was able to balance the workload of a Master's thesis with trips extending my skills and expanding my horizon of experience. It all came from the opportunities available to me from the University clubs I joined and a desire for continued learning and experiencing the world.