Competitive Dancesport, part 12
06 Nov 2021 - Richard Horridge
2021-11-06 Sat 20:00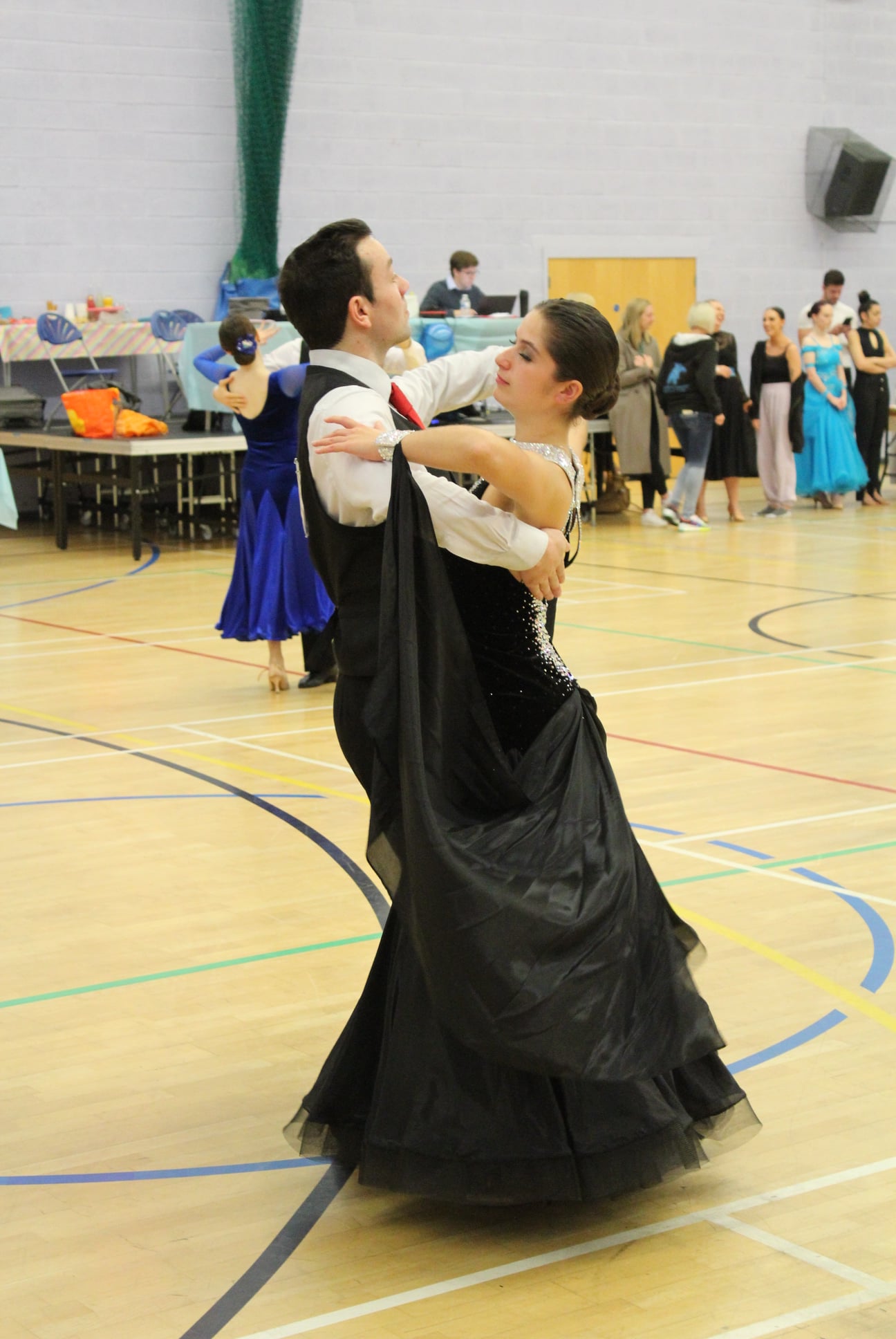 Pre-Intermediate Ballroom for the first time!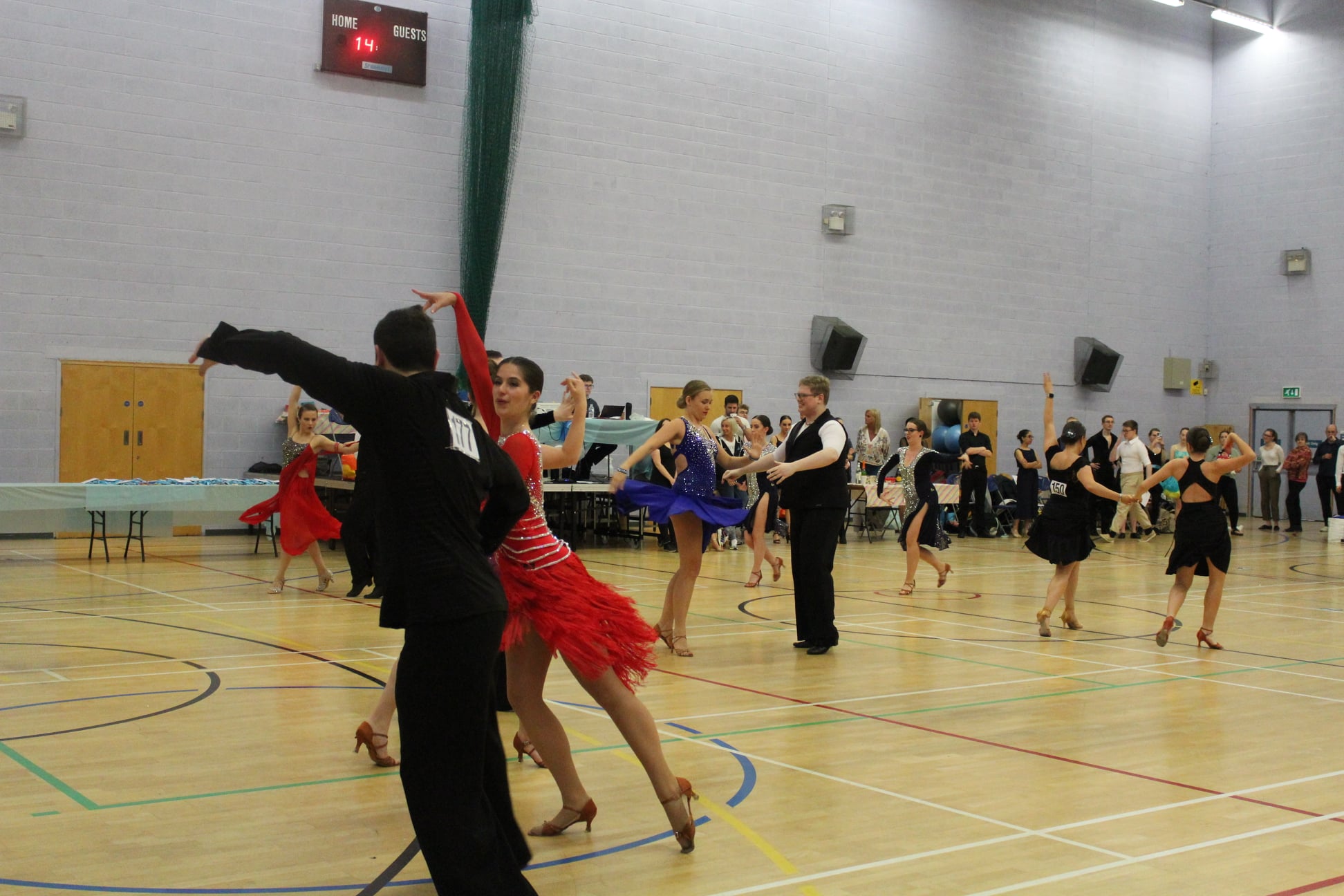 Dancing the Samba!
It has been rather a long time since this series has been updated! Rather a lot has happened since the last time I have posted.
The last time I competed was at Bristol Friendly in March 2020 as a Novice. Since then we have had (still have!) a pandemic to deal with. I spent most of the time working and occasionally heading out on an adventure but managed to spend a little bit of time dancing.
During the reopening in late summer 2020 I travelled to Northampton quite regularly to attend classes with Gabi, which was a great way to get out of the house and get some dancing done.
Alas, another lockdown hit and we were back to four walls again. We stayed involved through Zoom classes with Kerry and very soon the first online competition was held!
I participated in four of these - and even helped Katie put our own one together! These were a great opportunity to practice and get some videos for coaches to review and give feedback - it meant that it was possible to work on technique, even in those strange times.
When the reopening was originally planned I had hoped to compete a few competitions with Gabi. Alas, it was pushed back and my life became busy again - too busy to travel to Northampton as regularly as I had been. I didn't feel able to commit the time to travelling and was very sad to end our partnership.
I was keen to give what I can to BALADS this year and ran again (successfully this time!) for Team Captain. I was not sure if I was ready to move up to a new category, but enough people had told me by now that I was ready and I felt like I had explored most of what Novice had to offer. I caught up with Alex, returning to BALADS after a year of industry work, and we had a few practices together.
It was great to catch up with Alex and we had a good time dancing together, quickly agreeing to a partnership. We agreed to meet in the middle in terms of category, electing to dance at Pre-Intermediate level. This category is a two dance WQ or CJ event with open dress and open steps.
I've learned so much from Alex in the few short months we have been dancing together. We attended our first competition - Leicester Friendly - on 6th November.
Pre-intermediate was quite a small category with it being a straight semi final. After a Mayfair Quickstep to start the comp off, we were into the Opens - Foxtrot and Viennese Waltz. These mostly went quite well - only a few mistakes! - and we made it through the first round in both.
I was tucking into a cookie when I realised that we were on for our two-dance event - I hastily stuffed the remaining cookie into my waistcoat and hurried to the floor! It was after the round that Alex mentioned the strange lump that she could feel (!) - I sheepishly explained what had happened!
The morning continued and we sadly didn't make it to the final in Viennese Waltz but, amazingly, managed to make it in Foxtrot! We had a very simple Foxtrot routine but it must have been effective.
It was soon time for the final of Pre-inter and we were both excited to have made it. While we made a small mistake in the Quickstep, we both thought it had gone fairly well and the morning of Ballroom was over.
Before I could get changed for Rock 'n' Roll we had to attend our medal presentations. We were very pleased to come fifth in Foxtrot and anticipated our Waltz/Quickstep results - we were just happy to have made a final. It was with shock that we heard the announcer read out everyone else's names and not ours - we had won!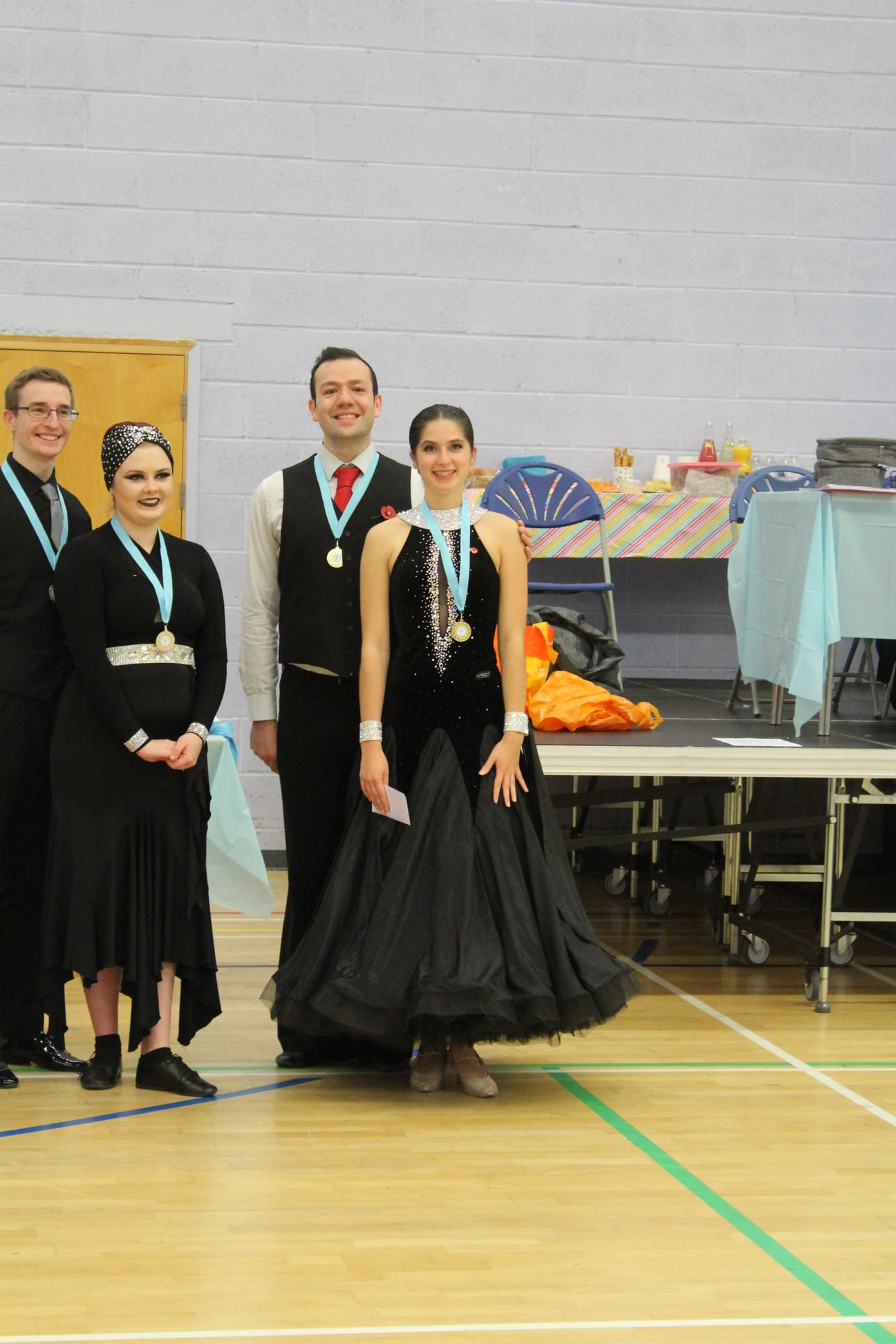 Winning my category for the first time in Ballroom!
I feel there can't be a greater vindication of my decision to move up - thank you so much Alex for your support and hard work!
There was now a short time to run and get changed for Rock 'n' Roll - for the first time there was Acrobatic Rock 'n' Roll at this competition and we felt that Katie and I needed to show what Birmingham was made of!
There were three couples from Birmingham this time - really well done to everyone who took part having only started dancing recently! In the warm up we pulled off the best Swing Boat we have ever managed! Unfortunately we didn't manage to do it as well in we had in the warm up but the crowd still loved our performance! Well done to all the couples! We placed second in Acro behind a UEA couple who told me they had picked up the dance from YouTube - well deserved winners for their energy and spirit!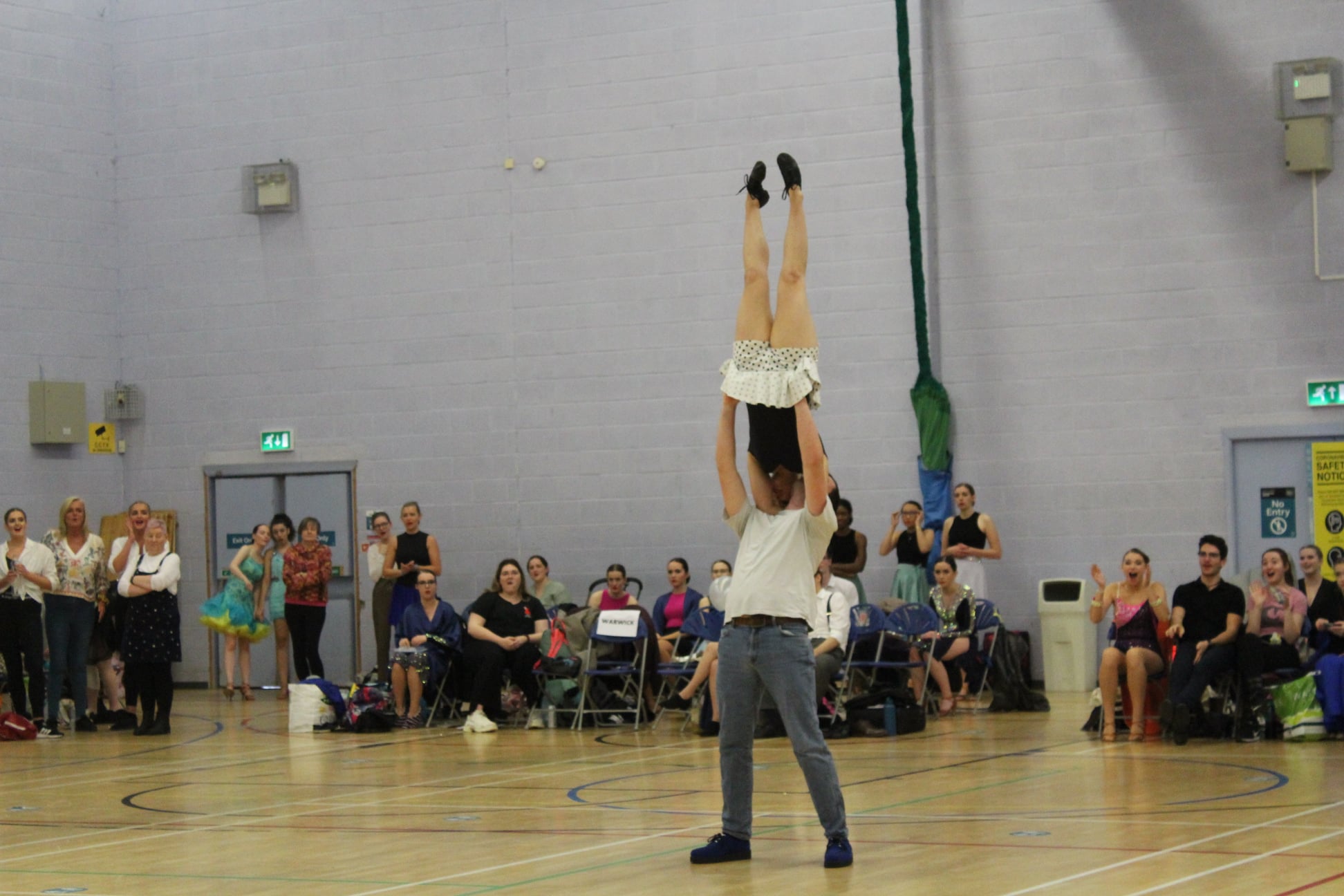 A flawless Swing Boat lift!
I danced again with Katie for the Salsa event - despite having practiced a few combos at Salsa class neither of us could remember them when it came to the rounds! Nevertheless we performed it well and had a great time dancing it - we were surprised but very happy to make it into the final and ended up placing fifth!
Leicester did a set of special prizes and myself and Katie managed to win the 'Best Performance' award - we got chocolate medals!! Thank you Katie for your hard work on the day - I had a great time dancing and we definitely showed everyone what Birmingham was made of!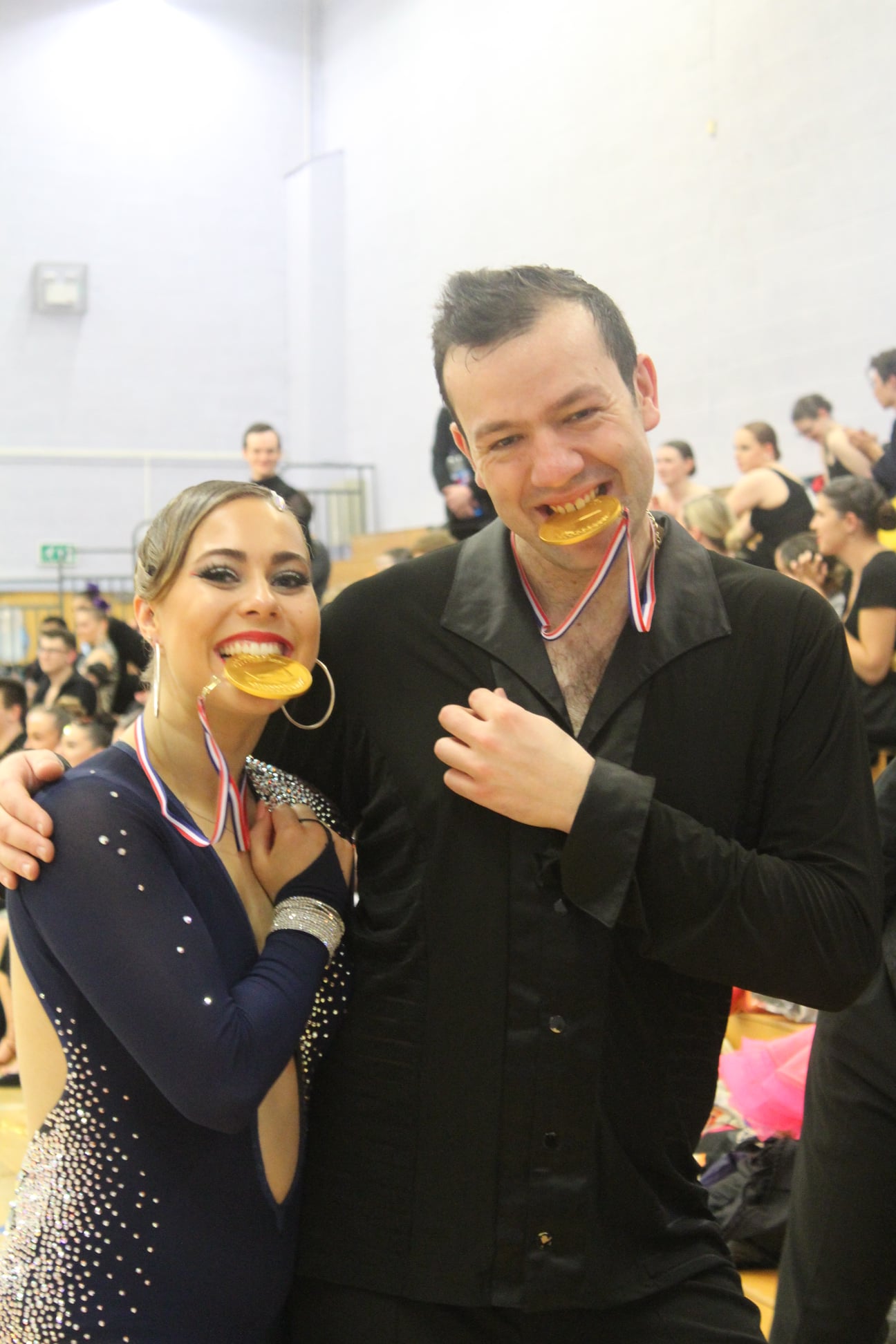 The Best Performers!
It was time for me and Alex to dance Latin. We had a great time dancing the Samba and even made it through a round - this had been our aim! Our Cha-cha and Jive event went ok, though we both forgot a few bits of our routines. We managed to make it to the final - quite an accomplishment personally given my previous Latin attempts! - and placed fourth overall, which I was very happy with!
It was finally time for Team Match and we were placed in Birmingham's A team - only the second time for me. We danced Waltz and it went fairly well, though I did dance the first long side twice by mistake! It was great to be part of such a strong team and it was a shock to realise that we had won Team Match!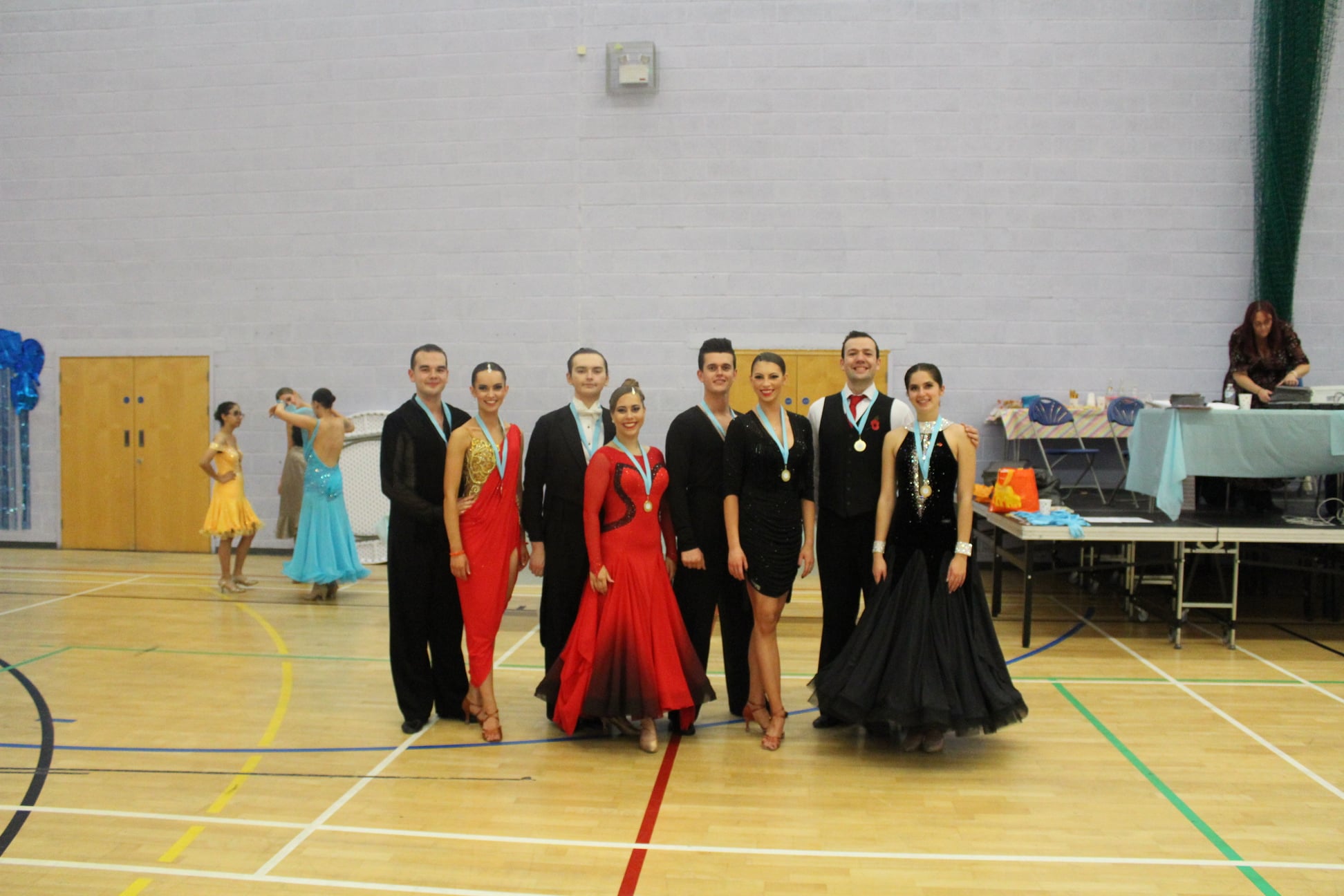 Team Match Winners!
Overall it was a fantastic day and it was so nice to dance again. I am so grateful to Alex for her support throughout - you are such a joy to dance with. Bring on the next competition!